Photo: left to right
Coach Wei Wei, Coach Zuo, Director Jiang, and Coach Leo.

Ye Shiwen, 15, swimming
Ye is one of the great hopes for the future of Chinese swimming, and the year 2011 saw her first appearance on the highest podium at the world championships.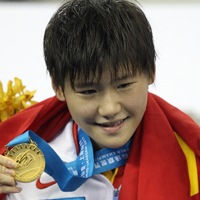 Ye Shiwen, 15, swimming
At the 14th FINA World Championships in Shanghai in July, Ye captured the crown of the 200m individual medley, beating a star-studded field, including defending champion and world-record holder Ariana Kukors of the US and Australia's Olympic champion Stephanie Rice.
Later, at the National Intercity Games, the 15-year-old pocketed five gold medals, including the 200m and 400m individual medley.
Ye has drawn attention since the Guangzhou Asian Games in November 2010. As the youngest Chinese athlete at the Guangzhou Asiad, Ye clinched the gold medal of women's 400m individual medley, beating teammate and Asian record holder Li Xuanxu.
Beginning swimming training at age 6, Ye, who was born in Hangzhou, Zhejiang province, stood out because of her outstanding physical condition.
"Ye was different from the others when I first saw her," said her first coach Wei Wei. "Her hands and feet were bigger than other children's of the same age, which is an advantage."